Dr. Nate Zeisler, Board President
Dean for Community Initiatives, The Colburn School
Dr. Nathanial Zeisler is the Dean for Community Initiatives at the Colburn School and earned his doctorate of musical arts and master's degree in bassoon performance from the University of Michigan and bachelor's degree in choral and instrumental education from Old Dominion University in Norfolk, Virginia. He envisions a world where students majoring in the arts have a clear path to a sustainable career, where creative minds are empowered and inspired to rule the workforce, and where access to the arts is not just for the privileged few, but for all.
Jacqueline Hamilton, Board Secretary
Field Representative, Office of Congresswoman Karen Bass
Jacqueline Hamilton serves as Senior Counsel in the office of Congressmember Karen Bass. Prior to joining Rep. Bass' office in 2014, she spent 8 years working with teachers and schools in central and south LA as Executive Director of the Education Consortium of Central Los Angeles. She practiced environmental law with NRDC and EDF for 9 years, and holds a JD from Yale Law School and a BA in Theatre Arts from UCLA. She lives in the theatre's neighborhood and her daughter is an After 'Cool alumna. Jacqueline is a passionate believer in arts education and community engagement.
Jessie Stone, Board Treasurer
Senior Director of Advancement, USC Viterbi Engineering School
Jessie Stone is a Senior Director of Advancement at the USC Viterbi School of Engineering. She received her professional ceritification in Fundraising from New York University and has a BA in Theatre Arts from UC Santa Barbara. Formerly the Director of Major Gifts and Corporate Philanthropy at UCLA, Jessie is a passionate supporter of the arts.
Regional Director, Government Affairs, Toyota Motor North America, Inc
La Stanja Baker is the Regional Director of Government Affairs for Toyota of North America, Inc. A graduate of the University of Southern California, she is an advocate for arts in Los Angeles.
Debbie Devine (Ex Officio)
Artistic Director, 24th STreet Theatre
Debbie Devine is a co-founder of the 24th STreet Theatre and its Artisitc Director. She is also the Chair of the Drama Department at the Colburn School of Performing Arts and a theatrical director with the LA Philharmonic. She has earned three Drama-Logue Critics Awards, a Robby Award, an L.A. Weekly Award, LA Parent Magazine's Best Westside Children's Theatre Award, and the Women In Theatre Award for Outstanding Achievement in the Los Angeles Theatre.
Meeting Planning Specialist, The Capital Group Companies
Juan Hernandez is a Meeting and Planning Specialist at The Capital Group Companies with a BA in World Arts and Cultures from UCLA.
Consultant, Executive Service Corps Southern California
Michael Hirschfeld is a consultant with the Executive Service Corps of Southern California with more than 30 years of experience in the not-for-profit community. A Los Angeles native, he has a BA from San Diego State University, and has received both a career achievement award and advocacy award from his peers.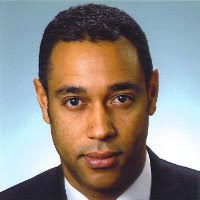 Partner, NCN Vision
Craig S. Keys is a Partner at NCN Vision, holds a bachelor's degree in social theory and mass communications from UC Berkeley, a master's degree in sociology and law from Columbia University, a J.D. from the University of California Hastings College of the Law. Craig was formerly the Associate Senior Vice President of the USC Office of Civic Engagement and principal consultant for Keys Consulting Group.
Violinist, Los Angeles Philharmonic/ MacArthur Fellow
Vijay Gupta is a violinist, speaker, and passionate advocate for the dedicated presence of citizen-artists in social and civic discourse. Founder of the nonprofit Street Symphony that works with homeless musicians on skid row and recent MacArthur Fellow, he also completed an undergraduate degree in biology and a Master's degree in violin performance from the Yale School of Music by the age of 19.
Project Manager, Mass. Electric Construction Co.
David Leuchter is Project Manager at Mass Electric Construction Company with a degree from Northwestern University in Civil Engineering and Transportation.
Business Development Consultant
David Marquez is a Community and Economic Development Consultant and Project Manager at California Consulting. He has a BA from the University of La Verne and has worked with several local government agencies in Southern California.
MICHAEL NOURI
Actor
EDWARD JAMES OLMOS
Actor
JOANNA SALIBA
Founding Board President
ROBERT SCALES
(ret.) Dean, USC School of Theatre
SANDRA TSING LOH
Performance Artist, Radio Commentator
BRADLEY WHITFORD
Actor
JACK BLACK
Actor
GEOFFREY COWAN
President, Annenberg Foundation Trust at Sunnylands
KERRY ENGLISH
Developmental Pediatrician
OLGA GARAY-ENGLISH
Independent Arts Consultant
BRENDAN FRASER
Actor
PAULA HOLT
LA Cultural Affairs Commission
DR. STEVEN D. LAVINE
(ret.) President, Cal Arts
JOHN LITHGOW
Actor
ANASTASIA MANN
Chairman/CEO Comiche Group Inc.